Wellspring Culture
June 3rd - June 10th, 2018
Wellspring Culture guides you to discover your purpose and live the life that God created for you. Wellspring Culture is made up of four steps that equip you to follow Jesus, connect to the church, discover your purpose, and serve others.
Follow (Sunday, June 3rd @ 10am) Learn the spiritual journey that God has for each of us: to follow Jesus.
Connect (Sunday, June 10th @ 10am) Become better acquainted with the story, vision and values of Wellspring Community Church, and find out how to connect with our church.
Discover (Online Assessment) It's Simple. God made you different than others. You're wired with motivations that others are not. When you learn your Core Motivations, you will pick the right friends, the right career, and you'll find your perfect service area at church.
Serve - Find out more about the opportunities available at Wellspring Community Church to live out your purpose and serve others by using your gifts here at Wellspring.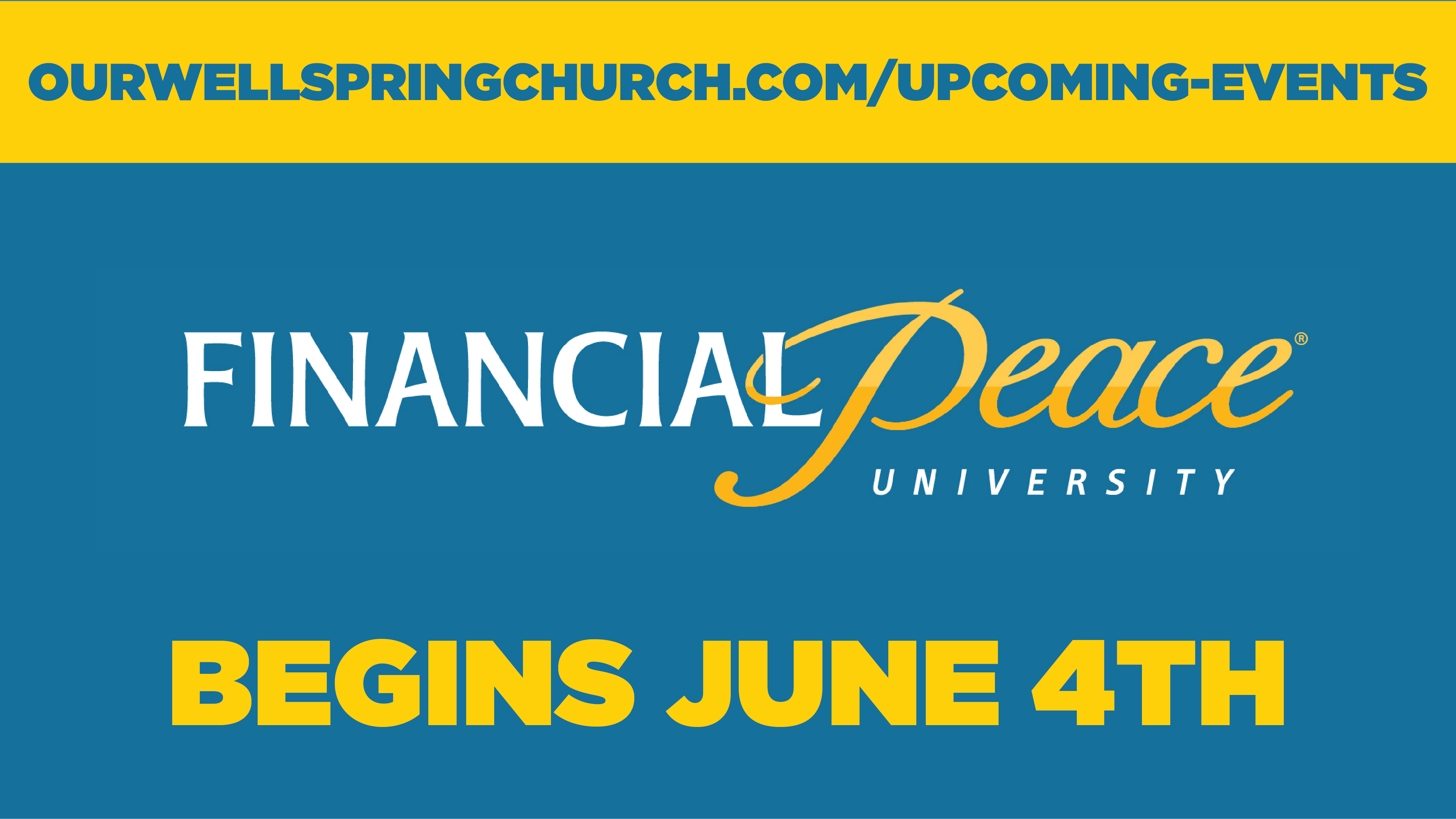 Financial Peace University
June 4th - August 6th, 2018
$30 - $50
Financial Peace University is a nine-lesson, money-management class taught by America's most trusted financial guru, Dave Ramsey. Dave and his teaching team will walk you through the basics of budgeting, dumping debt, planning for the future, and much more. The cost is $50 per couple for the materials.
We will also be offering a money-management class called Generation Change for 6th-12th Grade Students at the same time as the adults. The cost is $30 for the materials.
Childcare will be provided at no extra cost...we just ask that you register your child each week so that we can plan accordingly. More details to follow at the first week of the class.
Wellspring Students Summer Camp 2018
June 10th - June 14th, 2018
$300
- Come join us for a getaway for all 6th-12th Graders to learn what its like to come against what the world is teaching and stand up for what the Bible says is True.
-Join us on an adventure of dynamic teachings from guest speakers, games, laughter, team building, activities, and a healthy community building focused schedule. This year we will also be apart of youth conference of over 2,000 High & Middle Schoolers from across America.
Students will walk away taught how they can "Riot" against what the world is screaming for them to do. You do not want them to miss it! Sign up TODAY!
| 6th - 12th Grade |
| Space Is limited so don't wait! |
| Deposit of $65 |
| Total Summer Camp Cost $300 |
| Final Day to Register and pay deposit June 3rd |
| Late Registration Rate of $325 starting June 1st |
| Location: Dayspring in Ellenton Florida |
- Parents will drop students off at Dayspring on Sunday, June 10th and pick them up Thursday, June 14th.
| Packing List (Linked in email sent after registration) |
| Signed Waiver for 2018 (Linked In Email sent after registration) |
|| Important information || READ CAREFULLY
- Registration can be paid in full or partial, but a spot is not officially held unless the non-refundable deposit is paid.
- If Registering PAY Non-refundable DEPOSIT, fill out all information needed on the website, click "finish and pay"...
If you do not click finish and pay student will not be officially signed up.
- Check your e-mail once you signed up for the following: your Receipt, How to make payments, Waiver, Driving directions, & Packing list.
- Parents will drop students off at Dayspring on Sunday, June 10th at 4 pm, and pick them up Thursday, June 14th at 6pm.
Feel free to contact JRuggiero@ourwellspringchurch.com with any questions.
Wellspring Kid's Camp
June 18th - June 21st, 2018
All incoming Kindergarteners - out going 5th Graders are invited to Wellspring Kid's Camp on June 18-21! We have a fun filled time planned for your child! Our prayer is to help develop a better understanding of who Christ is, and be a building a block to help mold their spiritual life. Camp will be a time your child will enjoy building small group relationships, worship, games, and so much more!Please complete the registration for secure your spot! If you have any questions email thall@ourwellspringchurch.com